Philips Norelco Shaver 9700 with Smart Clean
Philips Norelco Shaver 9700 is a popular new edition to the Norelco electronic shaver line.
Established in 1939, Philips Norelco became known for manufacturing quality electronic shavers that were heavily marketed through some of the first major commercial campaigns.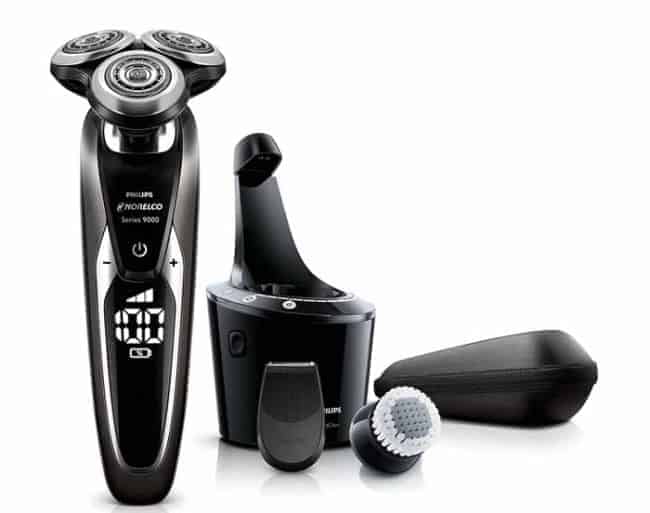 The Philips Norelco 9700 SensoTouch model combines the company's years of design experience with the latest personal electronic technological advancements. Let's have a look at some of the most important features that the Philips Norelco S9721/89 Shaver 9700 electric shaver has to offer.
Features of the Philips Norelco Shaver 9700
Promising the best shave of the Norelco line, this model has several features designed to improve the entire shaving process. All of the important features of this Norelco work together to provide a thorough shave without causing any pain or discomfort. The important features that separate this shaver from the competition are:
AquaTec Technology
Ergonomic Grip
GyroFlex Shaver Head
Improved Lift and Cut
SkinGlide
SmartClean PLUS System
Travel Ready
Knowing how these important features interact can help you if you are considering this Philips Norelco Shaver 9700 electric shaver.
I am going to explain each of these features and tell you how they work together to provide Norelco's famously close shave.
AquaTec Technology
Many people prefer to shave in the shower using shaving cream and plenty of water. However, situations occur that require a fast shave in between meetings or appointments when no shaving cream or water is available.
The Norelco AquaTec Technology makes shaving in the water or a dry shave in an emergency situation possible without any discomfort. The AquaTec Technology lets you get a close shave without damaging your skin.
Ergonomic Grip
The average shaver is heavy or vibrates so much that it is difficult to establish a comfortable grip. The Philips Norelco S9721/89 Shaver 9700 has an ergonomic grip that makes holding and controlling the electronic shaver easier.
Being able to completely control the electronic shaver makes getting a precise shave on a goatee or mustache easier.
GyroFlex Shaver Head
While the ergonomic handle helps improve grip and control, the GyroFlex head ensures that you get the most out of that control.
The heads of this Norelco flex and contour to the shape of your face, chin, and neck. With the GyroFlex technology you have a smaller chance of missing parts of your skin while shaving.
Improved Lift and Cut
Shaving hair close to the roots is the best way to get a smooth shave that lasts for hours. The Norelco Shaver 9700 lifts hairs during your shave so that you can cut each hair close to the roots. Working with the fast cutting UltraTrack technology, users can get a closer shave with fewer strokes.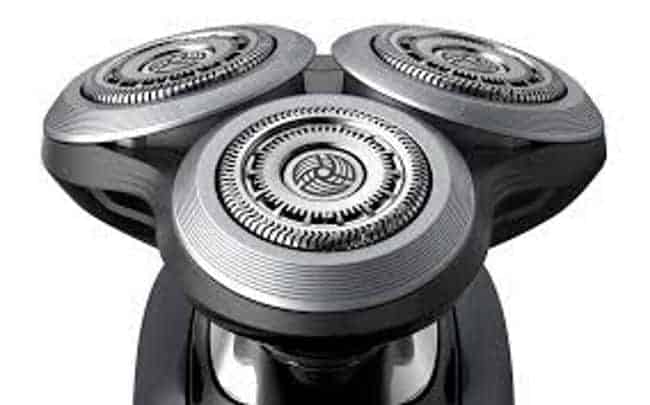 SkinGlide
Working with the AquaTec Seal to create a comfortable shave, the SkinGlide technology makes every shaving surface smooth.
With the SkinGlide technology you do not have to worry about a rough shave caused by pieces of skin or hair getting caught during shaving. Instead, the razor will smoothly glide over the surface of your skin.
SmartClean PLUS System
At the touch of a button, SmartClean PLUS cleans, lubricates, dries and charges your shaver, keeping it performing at its best every day. With an alcohol-free, skin-friendly formula, the SmartClean system cleans hair, foam and gel through a unique dual-filtration system.
The system also lubricates the shaver's blades to reduce friction and keep your blades in top condition. After each cycle, the SmartClean system also thoroughly dries and charges the shaver so it's always ready to go.
Travel Ready
Traveling with a charging station, power adapter, and other items can become tedious. Not only do these items add weight to a suitcase, but it is also easy to leave vital items behind during a trip.
The Philips Norelco Shaver 9700 was made with busy travelers in mind. Each razor has a battery that, once charged, will provide up to 50 minutes of shave time for 17 days. A conveniently located display times your shaves and lets you know when the battery should be charged.
Anyone going on a trip can charge their Norelco, place it in the convenient travel pack, lock it using the travel lock, and leave the power cord at home to utilize the cordless feature.
---
What's Included
Philips Norelco Shaver 9700 Electric Shaver
Travel and Storage Pouch
Protective Cap
Facial Cleaning Brush
Charging Stand
Power Cord
---
Common Questions
Does it Come with a Warranty?
Yes, the Philips Norelco Shaver 9700 comes with a two-year warranty on all parts and labor.
How Do Customers Like It?
Of the hundreds of owners of this electronic razor, 90% of all buyers are satisfied with their electronic shaver.
With a consistently high customer rating, this shaver has consistently received positive customer feedback on Amazon.com and the manufacturer's website.
Owners of this electronic razor were extremely impressed with the overall quality and durability of this razor.
Many people who own this razor state that it is much better than previous brands/models that they have owned. Most importantly, the razor provides the close smooth shave most razor owners want. The average customer thoughts are:
"If you want an electric razor, just buy this thing. It rules."
"High Quality with Lower price."
"Worth every penny!"
"If you have a thick beard and don't believe this product will work, give it a try! You won't regret it."
"Really close dry shave."
What Are the Complaints?
Even though well over half of the owners of this razor are in love with it, a small percentage of those who purchased this razor were not initially thrilled.
The common complaint users made about the mess the razor made during use, and that it missed spots when being used to shave parts of the body other than the face and neck.
These owners felt that for the price, the razor should be easier to use cleanly, and should be able to consistently provide a clean shave.
However, these users found that the way the razor was held affected the amount of mess it created, and not moving the razor to take full advantage of the flexible head.
Philips Norelco Shaver 9700 Pros and Cons
Like most products, the Norelco has good points and a few bad features. Anyone who is seriously considering buying it should learn the pros and cons to make product comparison easier.
Pros
Ergonomic Grip
LED Display
Easy to Recharge Battery
Cordless Travel Options
Precision Trimmer
Cons
No Jet Cleaning Option
No Blade or Accessory Replacements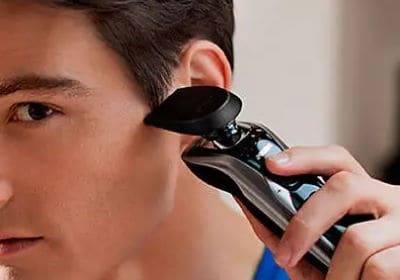 ---
Final Thoughts
Philips Norelco, with decades of experience behind the company and the manufacturers of this electronic shaver, have created a product that is durable and flexible.
Meeting the needs of casual users, and daily shavers, this razor has met or exceeded the expectations of hundreds of owners. Anyone who is looking for a new electronic razor definitely needs to keep the Philips Norelco Shaver 9700 in mind!
Check us out on your favorite social media!